Honister Aggregates
Looking for high-quality Lakeland Green Slate Aggregates that are perfect for your driveway or garden?
Look no further than our 40mm slate chippings! With a thicker depth and stronger construction, these chippings are ideal for heavy use areas and require minimal maintenance.
Our Lake District slate chippings have a unique geological composition that won't affect the PH levels of your soil or pond, making them perfect for planting borders and alpine and rockery gardens. Plus, they're fish-friendly, so you can use them in your ponds and water features without worry (just be sure to wash them before use).
Not only are our Lakeland Green Slate Chippings high-quality, but they also have a lower carbon footprint than other decorative aggregates on the market. That's because we deliver direct from the mine, cutting out the middleman and reducing transportation emissions.
If you want to enhance the beauty and functionality of your outdoor spaces with durable, eco-friendly Lakeland Green Slate Chippings, order now and experience the difference for yourself!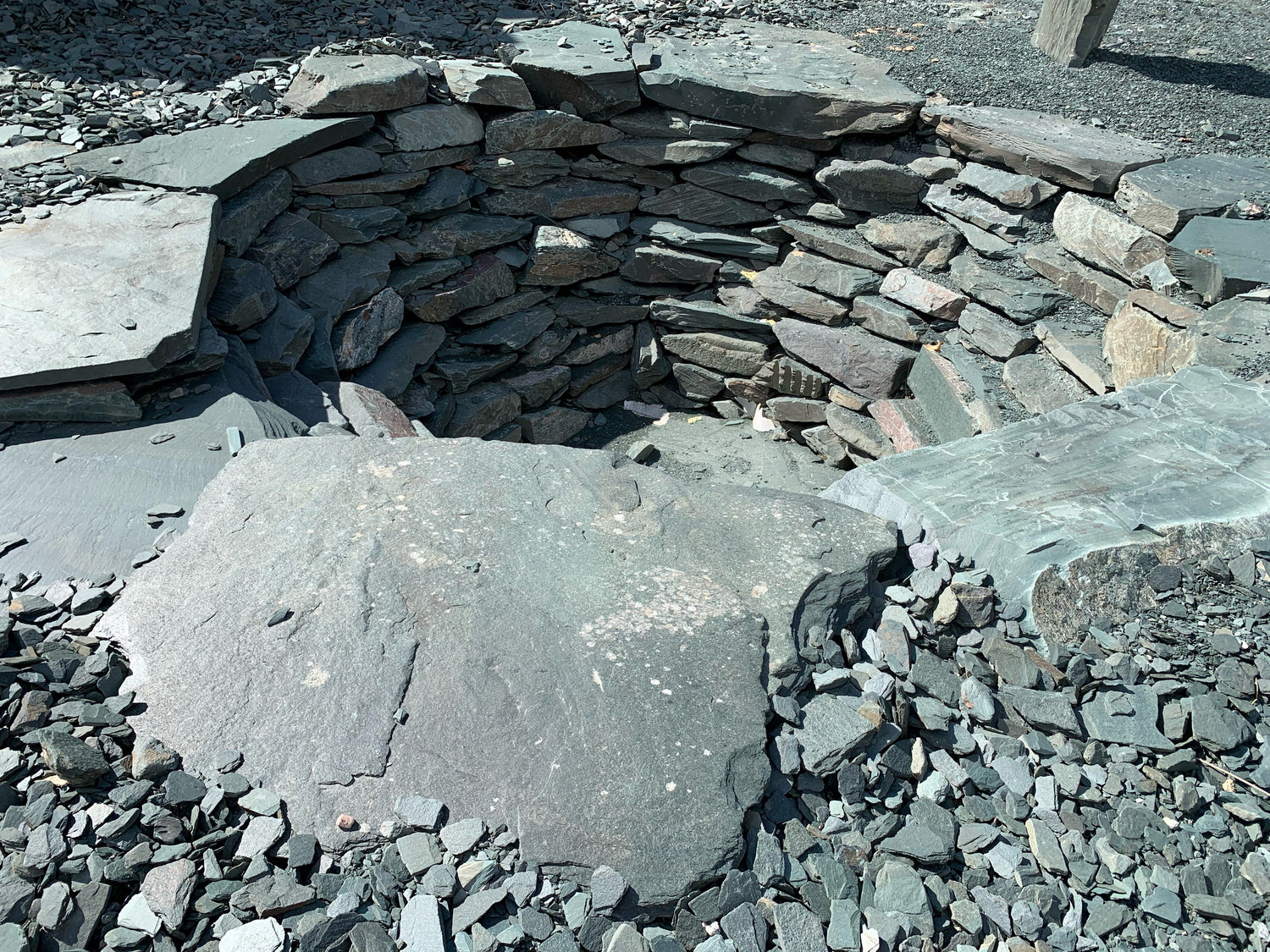 Types of Aggregates
Our dust product is a fine material with a size of approximately 12mm. It's perfect for use as a sub-base, providing a compact and stable foundation for your projects. Dust is ideal for paths, driveways and borders, ensuring that your outdoor space looks neat and tidy. It is great to mix with concrete and for many building uses.
Our chippings product are a decorative and flat stone with a size of 20mm to 30mm, making it easy to walk on and the perfect aggregate for a range of outdoor projects.
Its versatility makes it an excellent choice for garden paths, driveways, and even decorative features such as garden water features. Plus, with its attractive appearance, it's sure to enhance the visual appeal of your outdoor spaces.
Our shards product is a decorative stone with a size of 40mm to 60mm. This stone is perfect for use in flower beds, pots, and borders, adding texture and visual interest to your garden. However, it's not suitable for use on driveways or footpaths due to its larger size.
FAQs
Are you looking to buy aggregates and stone for your garden project but not sure where to start?
At Honister Slate Mine, we offer a range of high-quality products to suit all your needs, whether you're a trade customer or a private individual.
One of the most common questions we receive is whether anyone can buy aggregates. The answer is yes!
We supply to both trade and private customers, meaning that whether you're a landscaper, gardener, or just looking to spruce up your outdoor spaces, we've got you covered.
Another question we often get is about delivery costs.
We understand that the cost of delivery can be a concern, which is why we strive to offer the most affordable and convenient delivery options possible.
Simply let us know the quantity of aggregates you require and your full delivery address, and we will work out the most cost-effective way to get your order to you.
We're committed to providing high-quality and eco-friendly aggregates and stone products to suit all your needs.
Whether you're looking for chippings, shards, or dust, we've got a range of products to help you achieve your dream outdoor space.
So why wait? Order now and start creating the garden of your dreams today!
Discuss your requirements
Please contact us below and we will be in touch.