At Honister Slate Mine, we have 20+ years of experience and a passion for supplying the
best natural stone worktops to both private and commercial customers.
We are proud of the craft we nurture and the green slate worktops we have provided all
over the UK over the years.
We provide a fully personal service, have a fully equipped workshop and a skilled
team of stonemasons who produce exquisite, top-quality kitchen worktops that
have pleased our customers for decades.
Email Lauren on sales@honister.com or call
01768777230 to find out how we can assist you with creating your dream kitchen worktop.
What better way to have a piece of the Lake District than in the heart of your home, the Kitchen.
The kitchen is the hub of the home and it is paramount that your worktop is hard wearing, easily maintainable and attractive. Lake District slate worktops are a certain way to ensure full trust in your Kitchen.
The unique characteristics of Westmorland Green Slate, formed over 450 million
years ago, cannot be recreated or impersonated by stone substitutes but also cannot be found anywhere else as the the stone is mined here directly onsite here at Honister.
Each piece of slate is completely unique, meaning not one
piece will be the same as another. Your worktops will be completely unique to you and your home.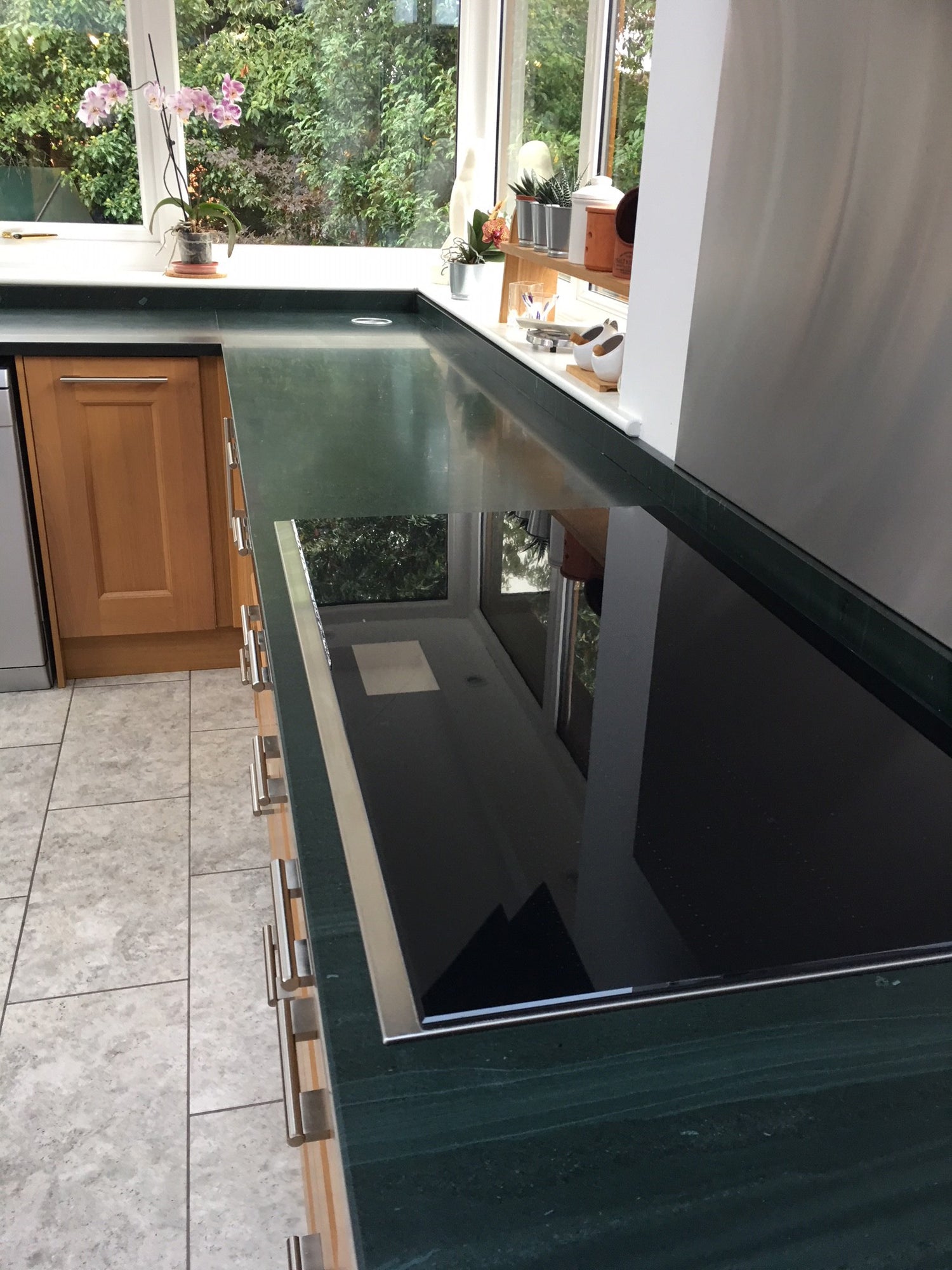 Why a Green Slate worktop?
Slate has been mined here for many hundreds of years, but it has reached peak popularity in the home in recent years:
Non-porous – Slate is a naturally occurring non-porous stone. This makes it a great choice of material for surfaces where liquids may be
spilt, including kitchen worktops.
Maintenance-free – Due to its naturally low porosity, slate worktops are easy to look after and will not stain easily. Slate worktops require next to no maintenance!
Heat-proof -Slate is a good insulator; it is heatproof and fireproof, meaning it will withstand hot pans on countertops with ease.
Hardwearing – If you are looking for longevity, slate is one of the most durable, hardwearing kitchen worktops surfaces you can choose.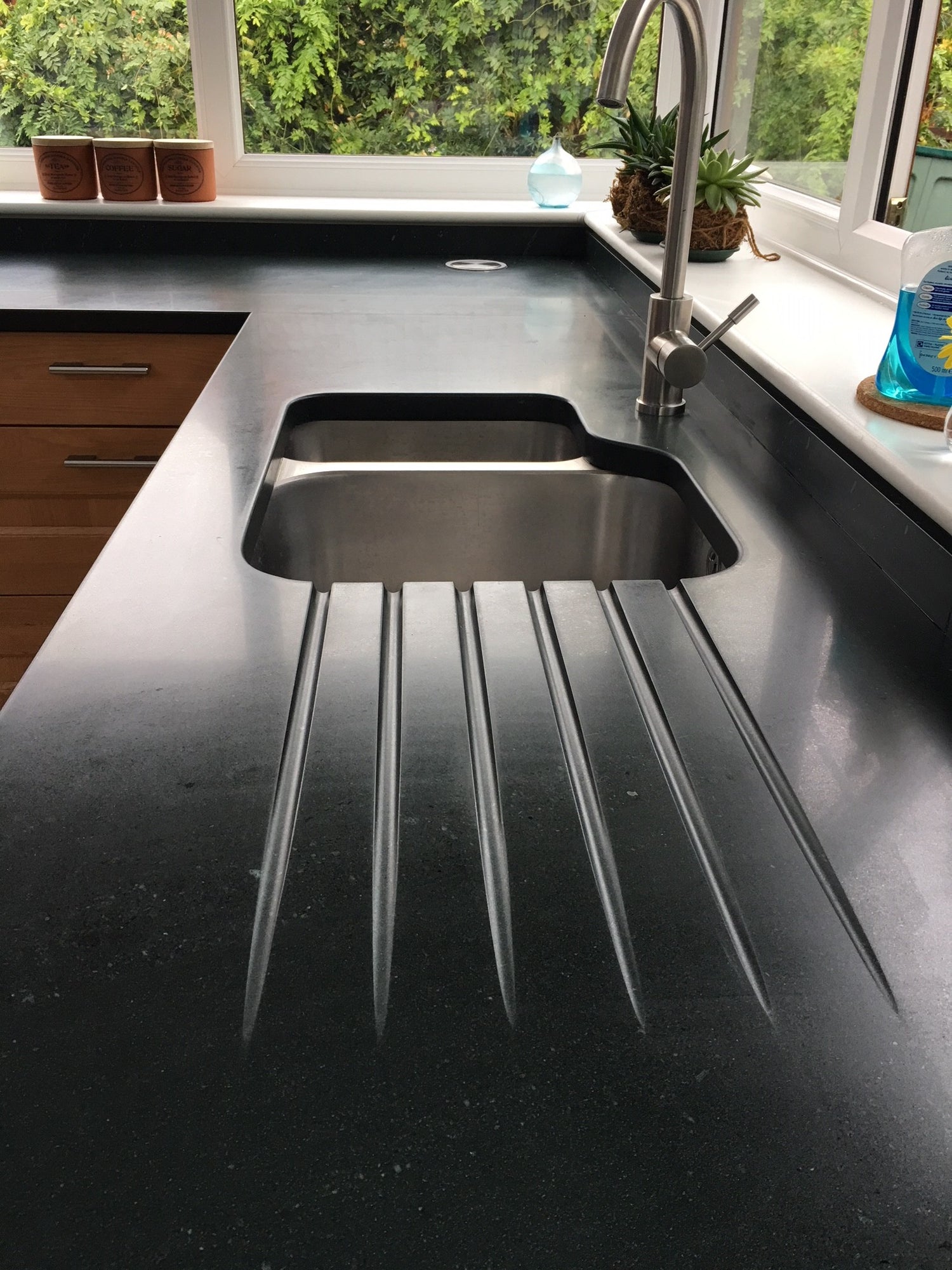 How to look after slate?
Slate is an attractive choice for a worktop. It's a fashionable material, it's incredibly versatile and doesn't hold bacteria.
Caring for a slate kitchen worktop is so easy– it is basically maintenance-free!
Clean your work surfaces with a mild detergent and a light soft sponge.
Avoid using anything acidic such as lemon or vinegar, and some household cleaners containing acidic substances as these can discolour slate surfaces. Look for natural eco-friendly cleaning products.
For general day-to-day dusting, it is recommended that you use a non-abrasive cloth to wipe down.
Abrasive or steel wool-type cleaners will scratch the countertop.
Even though slate is a non-porous stone, it still benefits from periodic sealing. If water droplets stop appearing as beads, then it's a sign that your slate worktop needs resealing, we are happy to advise and help on this post purchase and will continue to offer advice and care tips for life.
Please note, Cracks caused by dropping heavy pots or pans onto their surface are almost impossible to repair.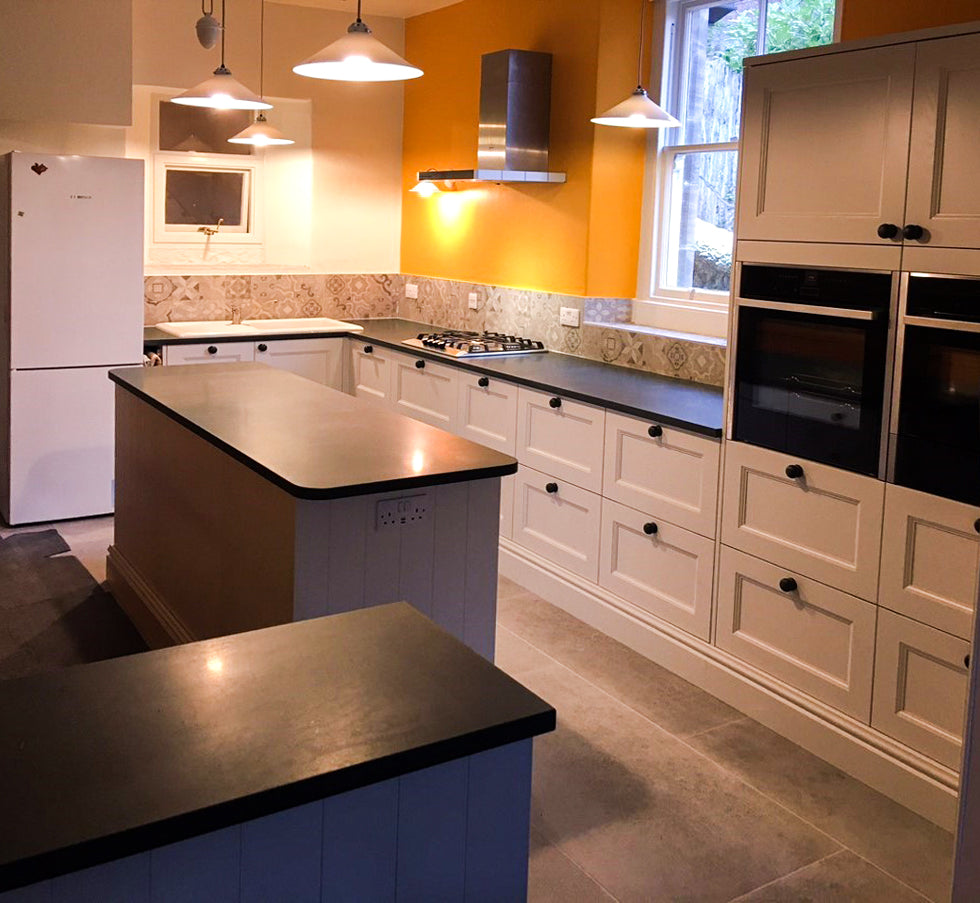 FAQs
Do you offer templating?
I'm afraid we don't offer template services nor installation.  Please do let us know if you struggle getting someone though as we do have some contacts in the industry.
How do I maintain the new look of the worktops?
We will always recommend you to seal the worktop once installed.  Seal it again 6 months after installation.  The worktops will show dull when it needs sealing again which might be 1 year or even 5 years later. 
Interested in a bespoke slate worktop?
Please contact us below and we will be in touch.