Honister Paving
Looking for high-quality Lakeland Green Slate Paving that is perfect for your driveway or garden? Look no further than our Green Slate paving.
Slate paving is one of the most popular choices for outdoor flooring. It is a natural stone, giving it a unique, elegant, and timeless look. Slate paving comes in a wide range of sizes, so you can create a design that suits your taste and the style of your home or business.
One of the main advantages of slate paving is its durability. It's resistant to the elements makes it perfect for outdoor use. It can withstand heavy foot traffic, extreme temperatures, and harsh weather conditions. Unlike other materials, slate paving doesn't fade or lose its colour over time, so it will maintain its
original beauty for years to come.
Another advantage of slate paving is its low maintenance. It's easy to clean, and you don't need any special tools or products to keep it looking great. Regular sweeping and occasional pressure washing are all that's needed to keep your slate paving in top condition.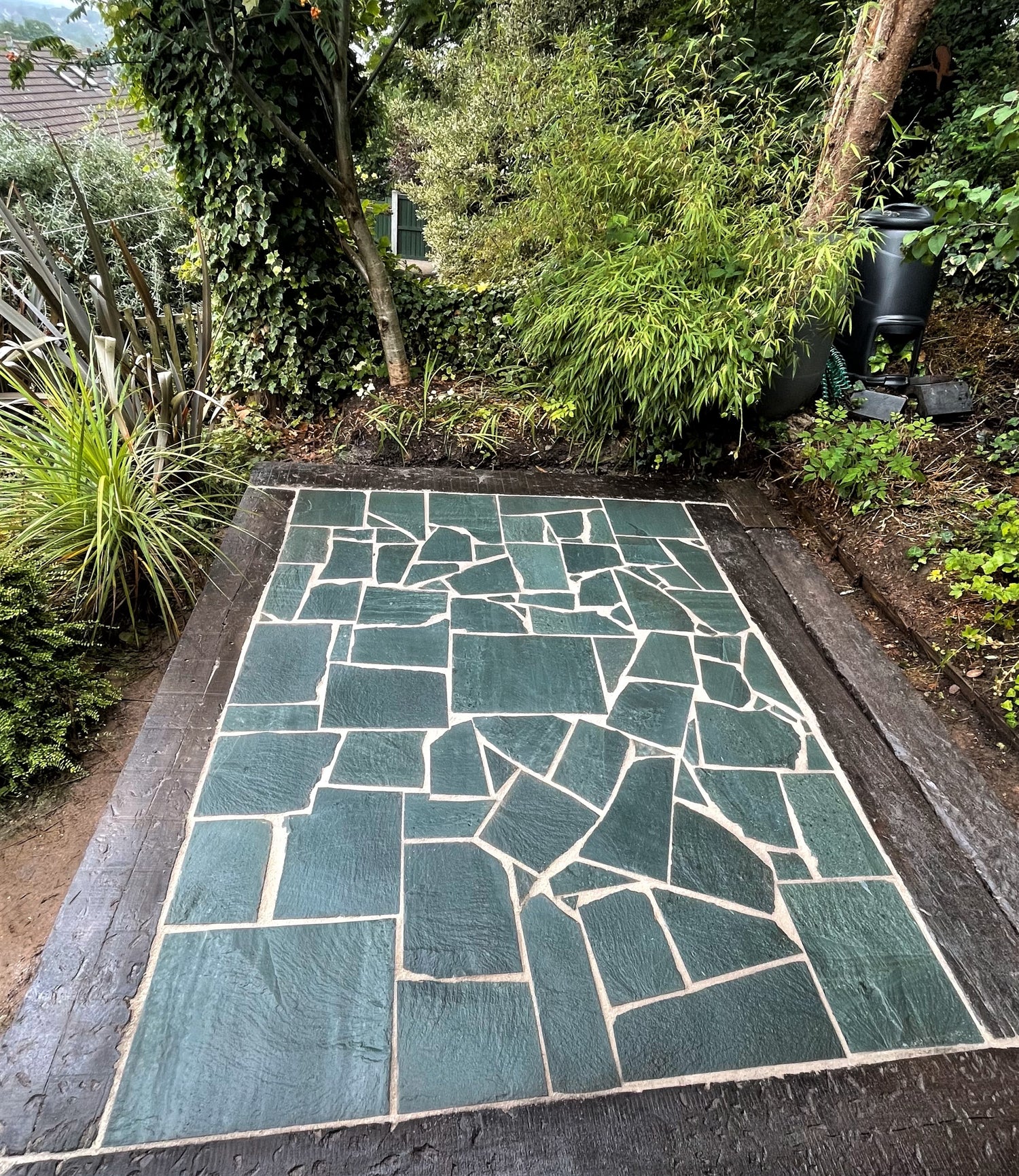 Slate paving is environmentally friendly. It is a natural material that doesn't release any harmful chemicals or pollutants. Unlike concrete, which requires a lot of energy to produce, slate paving is a sustainable and eco-friendly choice. It has a lower carbon footprint as we deliver direct from the mine, cutting out the middleman and reducing transportation emissions.
If you're looking for a beautiful, durable, and low-maintenance outdoor flooring option, then slate paving is the perfect choice for you. With its timeless elegance and natural beauty, it will enhance the curb appeal of your home or business and add value to your property.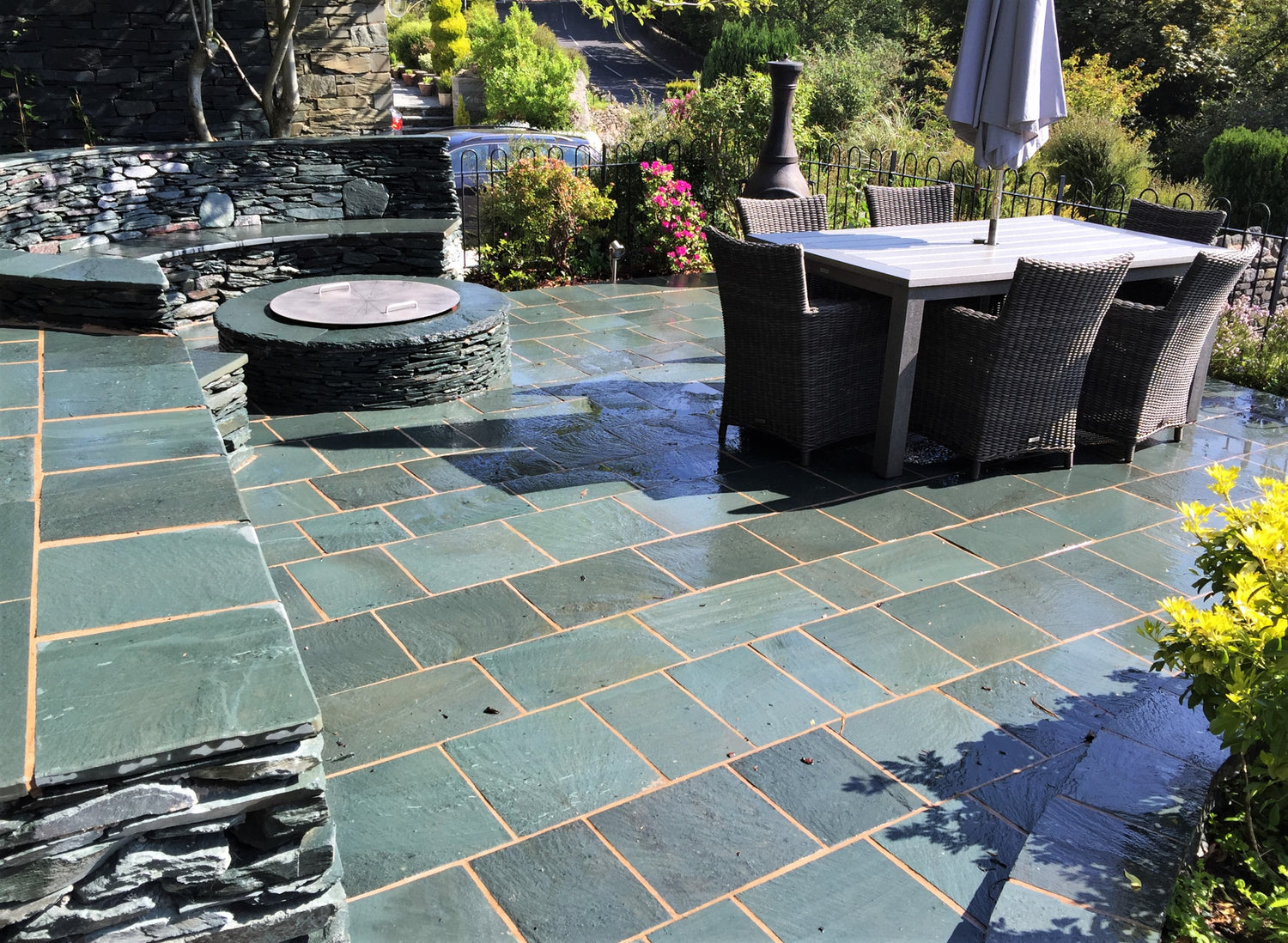 Farmhouse Flags
Our green slate flagstones are not only gorgeous, with their rich, earthy tones and unique, natural textures, but they're also incredibly tough and long-lasting. Unlike many other natural stones, green slate is highly resistant to weathering and erosion, making it an ideal choice for outdoor applications.
Each green slate flagstone is unique giving your outdoor space a truly one-of-a-kind look. Whether you're going for a rustic, natural look or a more polished, modern aesthetic, green slate flagstones are a versatile choice that can suit any style.
Farmhouse flags are larger regular shaped paving slabs. They are made in varying widths with random lengths and approximately 30mm thickness.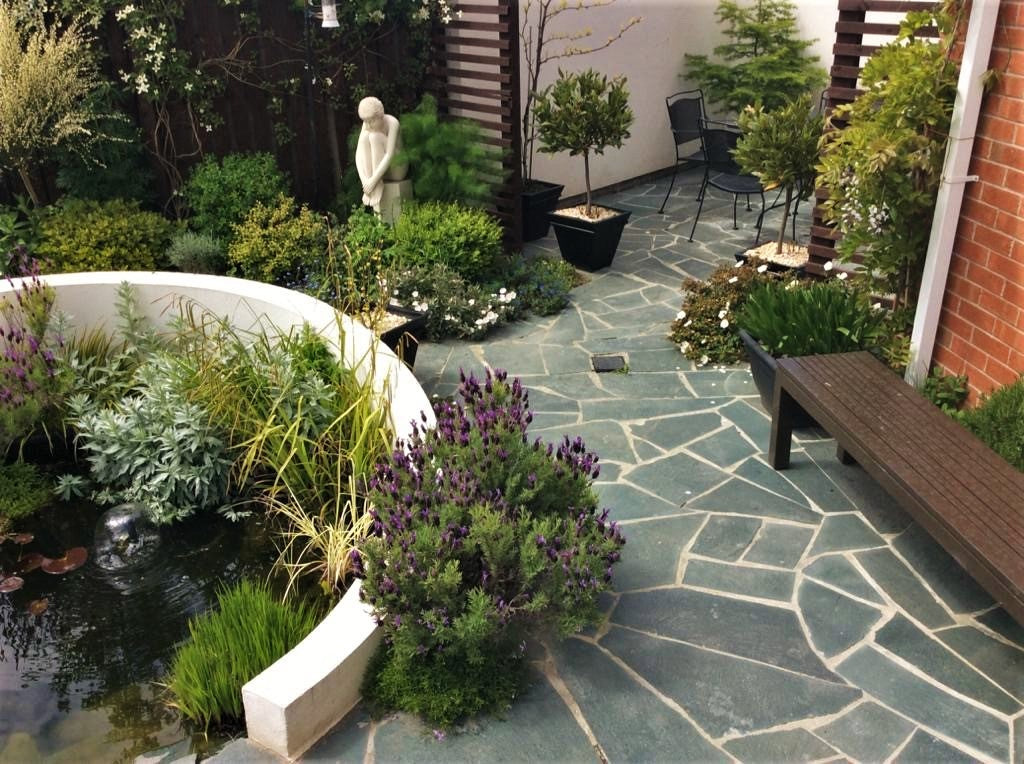 Crazy Paving
'Crazy' refers to the 'crazed' appearance of the finished surface.  It is irregular in shape and is 'broken' material. In nearly all cases, crazy paving is best laid on a cementitious bed.  
We offer two types of crazy paving – thin and thick. Thin is between 0.5 – 1″ thick, while thick is between 1 – 1.5″ thick.
Thick is best used on driveways where you'll be parking vehicles, while thin is perfect for pathways.
It is a cost effective paving but remember the laying process will take a little longer than cut paving to achieve a good finish.
FAQs
Are you looking to buy aggregates and stone for your garden project but not sure where to start?
At Honister Slate Mine, we offer a range of high-quality products to suit all your needs, whether you're a trade customer or a private individual.
One of the most common questions we receive is whether anyone can buy aggregates. The answer is yes!
We supply to both trade and private customers, meaning that whether you're a landscaper, gardener, or just looking to spruce up your outdoor spaces, we've got you covered.
Another question we often get is about delivery costs.
We understand that the cost of delivery can be a concern, which is why we strive to offer the most affordable and convenient delivery options possible.
Simply let us know the quantity of aggregates you require and your full delivery address, and we will work out the most cost-effective way to get your order to you.
We're committed to providing high-quality and eco-friendly aggregates and stone products to suit all your needs.
Whether you're looking for chippings, shards, or dust, we've got a range of products to help you achieve your dream outdoor space.
Would you like to know more about our outdoor paving?
Please contact us below and we will be in touch.