Introduction to Honister Green Slate
Here at Honister Slate Mine we are proud to produce headstones handmade from
British stone mined here at the last working slate mine in the Lake District.
Choosing a headstone for a loved one is a deeply personal and emotional decision;
we understand that the process of choosing a headstone can be overwhelming, so we
are here to carefully design and produce headstones to your unique design and
specifications.
We understand the importance of creating a lasting tribute that truly reflects
the person it honours.
We not only supply completed lettered pieced of stone but we can also
produce blank stones to go to your chosen stonemason for lettering, from hand
carving, to sandblasting to CNC machining our memorial stone is suitable
for all, we proudly send our Westmorland green slate all over the UK as a
finished stone ready for installation or a blank canvas ready for another
craftsman to take their hand to our stone.
If your chosen stonemason has never worked with our stone before we are
happy to provide samples so they can get to grips with our stone.
Honister slate is a high-quality and durable material that is perfect for
use in headstones and memorial plaques.
It is renowned for its resistance to weather and does not encourage the
growth of mosses or lichens, ensuring that the headstone remains looking
beautiful for years to come. It is also impervious to frost, which means that
it will not crack or become damaged in cold temperatures.
We operate on a leadtime of 4 - 6 weeks from order to delivery.
Advice & Guidance
When can I install a headstone on a grave?

In the UK, most cemeteries will request that you wait a minimum of six months after the burial before installing a headstone on the grave. Some will even request a year or even longer.
Check with your burial ground to ensure you wait the correct amount of time.

Headstone rules in cemeteries

The etiquette related to what you can put on a headstone mostly comes down to the rules and restrictions that are in place at your cemetery.
Some cemeteries do have their own rules in place with regards to the actual headstone memorial type you can choose, or the stone colours that you're allowed, including maximum and minimum sizes and decoration that can be added on or around the grave.

Headstone rules in churchyards

Things can often be a little stricter in churchyards.
What is permitted will be at the discretion of each individual parish priest at the church as they are bound by the diocese churchyard regulations. You will find that many dioceses even have their own specific guidance outlining what wording is acceptable to use, along with shape, edging and maximum and minimum sizes and decoration.
An example would be the Diocese of Oxfordshire, which suggests that:
"Inscriptions must be simple, reverent and theologically acceptable; they may include appropriate quotations from the Scriptures or literary sources."
What wording to choose?
When it comes to wording for a memorial, you need to consider font as well as inscription.
Different fonts can add character to a gravestone.
The most popular option is a Roman font or one very similar. Highly stylised fonts such as elaborate 'script' like fonts may look good on paper but are often very unsuitable when cutting into stone.

More simple italic style fonts are often used for verses, bible passages, poetry, and quotes.

The inscription is one of the most important parts of a gravestone. It's the message that will represent the life of your loved one and should be timeless and dignified.
It can contain anything from bible passages to quotes to poems, and should summarise the dead person's life, beliefs, and accomplishments.
This can be very difficult since it's hard to summarise somebody in just a few words. Common phrases include 'Rest in Peace', 'In loving memory of…', 'Forever in our thoughts', etc.

Any personal phrases need to be checked to make sure they comply with the rules and regulations belonging to your cemetery.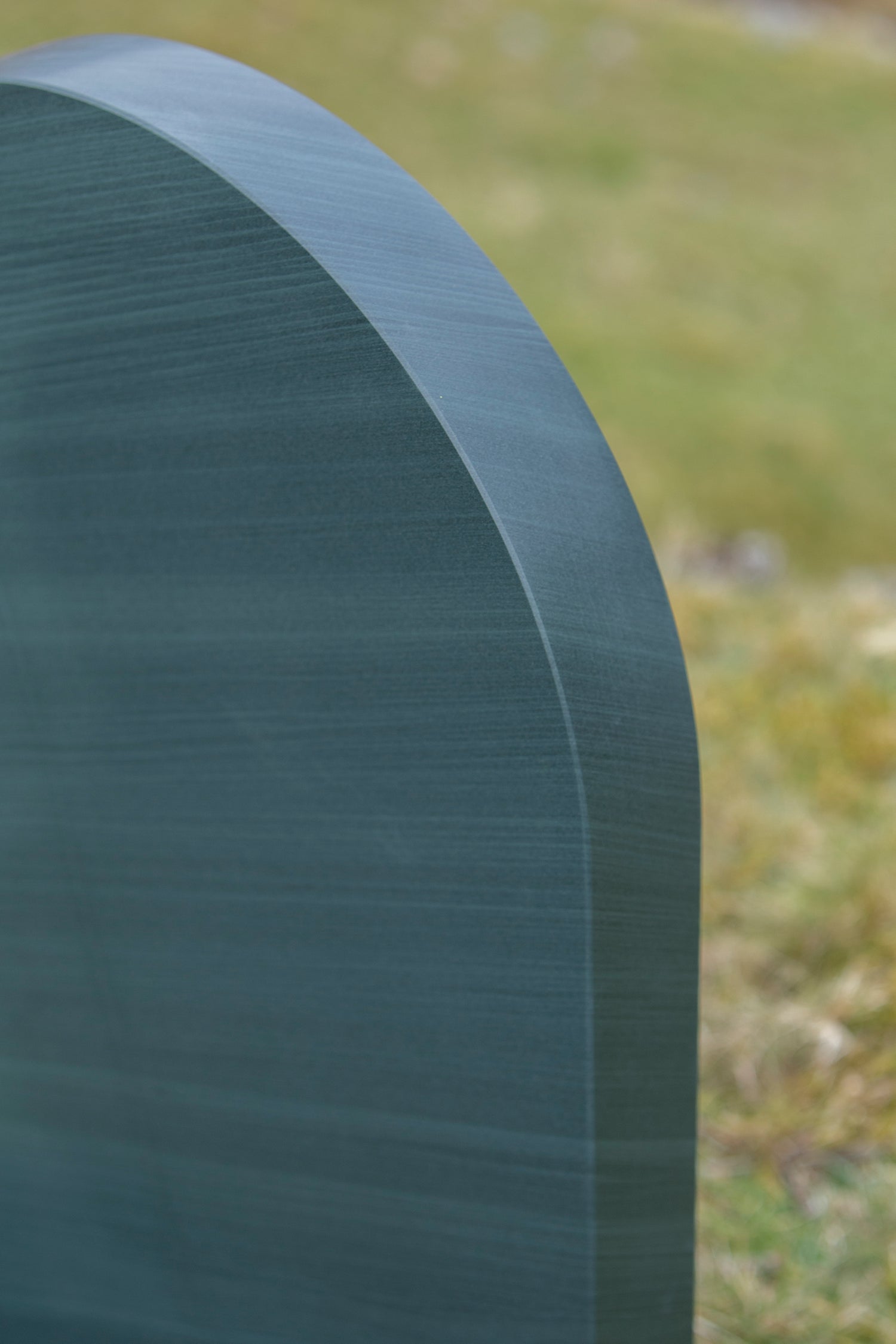 How to order a Headstone or memorial from Honister Slate Mine?
Once you have received guidance from your chosen burial ground on permissions and sought out an approved stonemason for installation, we can begin the process of quotation & lettering design, we are able to supply lettered stones or blank stones for hand carvers to letter.

We would require height, width and depth measurements including any shaping or edging required.

Usual thickness is 3-inch, 4-inch, or 5-inch.
We produce an array of polished headstone shapes, these are all available with our honed finish stones which is a smooth matt finish to the stone.
We also produce natural monolith memorial stones which are a more rustic finish with natural edging on, these stones replicate mountain shapes and require their faces polished for lettering.
Being a small family run business we understand the emotional ties in these sensitive order and can assure you that we will be with you personally every step of the way through the process offering guidance, experience and support.

We are open 7 days a week to show you around our site and workshop so not only can you see where your stone will be handmade but so you can visit us to talk through all options for a lasting memorial for your loved ones.


If visiting is not an option, we are always a phone call away.
Would you like to know more about our Headstones?
Please contact us below and we will be in touch.
Testimonials
Paul Tilbury

"I'd like to pass on a huge thank you for arranging the memorial stone. It looks great and is a fitting memorial to a man who loved the Lakes."

Stacy Howarth

"Thank you so much for the beautifully crafted headstone you made for my son. From start to finish you have been outstanding with your customer service, advice, and efficiency. The headstone is just like the design and is exactly how I imagined it."

Dick Bower

A huge thank you to Lauren at the Honister slate mine in the Lake District who organised for the memorial to be mined, finished and shipped to London, helping us achieve this and creating a wonderful memorial to a woman who was, as it says on the stone, brave, beautiful and deeply loved
Frequently Asked Questions
First and foremost, there is no "normal"

Many families ask, "what do people normally get?" There is honestly no "normal" nor is there a right or wrong choice.

Each headstone is unique to the individual and choosing a headstone is a unique experience. 

This will be the very last thing you are able to do for your loved one. 

Essentially what you are trying to do is mark someone's grave, but you are also trying to say or show what meant the most to them on the gravestone you choose.

This may seem completely impossible to do but there are lots of options to help you achieve this.
Why Honister?

Many people have happy memories, links and connections to the Lake District, we are proud to produce Cumbrian headstones, Lake district headstones, Lakeland stone whichever you call it we are the home of Westmorland green slate and the last working slate mine in England.

We won't just hand you a leaflet and ask you to pick a gravestone. 

We would like to offer you any support in the decision process that we can, while making you fully aware of all the options available to you. 

There are absolutely no limitations on what we can do for you, and we look forward to customising your loved one's headstone the exact way you, and they would have liked it.

We know how special that person was to you so we want to do everything we can to help you commemorate them.
How quickly can I have a headstone installed?

It is recommend to not erect a headstone until 3-6months after the burial, as this allows the ground to settle fully, thus avoiding the possibility of the stone leaning in the future.

The 3-6 month rule does not apply to cremation memorials or vases, which can be fixed as soon as the grave is purchased.
I have seen a headstone I like, can you make it for me?

Yes, we can make headstones to nay specification and design to images and measurements provided.
What lettering should I have?

Lettering your Lakeland stone memorial is an entirely personal choice, see below for some ideas on inscriptions.

Epitaphs

An epitaph is a statement inscribed onto the headstone and they usually are words about the person's roles in life. For example:

Beloved by family, cherished by friends.
Here lies a beloved son, husband, father…
Here lies a beloved daughter, wife, mother… 
Here lies a soldier who served his/her country well.

Less formal statements

Uplifting quotes that make visiting mourners smile are also comforting, such as:

"Live to the fullest, for life is all too short."
"Life is not forever. Love is."
"If I could do it all again, I wouldn't change a thing."
"Died happy."
"I hate to leave you all behind, but we'll meet again one day."
"I lived a good life. Now I'll have a good rest."

Religious sentiments

Religious sentiments can reflect your departed loved one's spiritual views, which can be of great comfort to those who are mourning for them, for example:

"God called me home."
"Don't weep. I'm simply resting in God's arms."
"Parted by death, we'll be reunited in heaven."
"Have faith we'll meet again."

Engraved Bible verses

Here are some examples of comforting Bible verses:

"Thy remembrance shall endure unto all generations." Psalm 102:12
"He that endureth to the end shall be saved." Matthew 10:22
"Whosoever believeth in Him should not perish, but have eternal life." John3:15
"They can no longer die; for they are like the angels." Luke 20:36
Wording Etiquette

If inscribing a headstone that will be placed in a churchyard,  you need to check any restrictions or inscription etiquette with the church before the process is started.  

There have been alleged instances in the media of churches refusing inscriptions, although this is rare. 

There is no Catholic Church policy on what can and can't be inscribed on headstones and the Church of England has no unified rules. However, the 42 dioceses within the Church of England have their own churchyard regulations, including rules about wording. 

For example, the Diocese of Oxford allows nicknames, but only in inverted commas and states: "inscriptions must be simple, reverent and theologically acceptable; they may include appropriate quotations from the scriptures or literary sources." 

The Local Authorities' Cemeteries Order of 1977 allows Church of England bishops the right to object to an inscription on memorials, but doesn't provide any guidelines. 

For local authority plots, the Department for Constitutional Affairs provides guidance which includes 'informal memorialisation' but not what can and cannot be inscribed on a headstone
Poem inscription?

For a long poem you will need the extra space, so a traditional headstone is an option.
Our family all want different things?

One of the hardest challenges for us is the difference of opinion between the deceased's loved one's family.

Choosing a gravestone is a difficult and emotional decision.  Sometimes a decision that needs to be done when emotions have been processed and settled down a bit, especially when there is a difference of opinion. 

Essentially if you all can't decide, it would be better to wait a while longer and let those involved in the decision the time to go over their ideas and thoughts then come together again to try to make a final decision. 

It can be helpful to walk around a cemetery to gain ideas of what others have done to mark their loved one's grave. 

Ultimately a good thing to remember when making a final decision is to think what your loved one would have liked themselves? This can be helpful in gaining back focus on the situation and help to settle a lot of difference of opinions.

It is essential that the decisions made are agreed, as a gravestone is a permanent fixture honouring someone's memory.
Can I get proofs of my memorial?

We can send you 3 or 4 layouts of what the stone could look like for your approval. If you don't like what you see then the layout/style can usually be changed until you are happy
How do I Pay for my memorial?

We require full payment before production can begin, this can be paid for by bacs.
How long does it take to make?

Our leadtimes are approximately 4 weeks from payment or final approval.
What is a headstone?

A headstone, or gravestone, is a stone or slate marker placed at the head of a grave in a cemetery.

After the mound of earth on top of the grave settles, usually several months after the burial, the headstone becomes the main way of marking the person's grave.

Memorial, or monumental masons carve them from several different types of hard stone and install, or 'fix,' them above the grave.

In addition to the person's name and life-dates, headstones are usually inscribed with an epitaph reflecting on what they meant to their family

Grave-markers are an ancient tradition, but technology is now available that enhances traditional graves even further. 

Headstones do not feature in all cultures' funeral customs, but they are part of some religious funerals and aren't typically associated with Jewish and Muslim practices. Most masons, including some specialist providers, can carve headstones designed for members of these faiths, engraved with a Star of David or a star and crescent.

The death of a child is perhaps the most difficult bereavement to cope with, but many masons provide specific headstones to commemorate their personality and interests. The design of these memorials range from teddy bears to trains and spaceships.

Bespoke memorials can also be carved for you.

Not all memorial masons are members of the association, and there is no legal requirement for this, but some Burial Authorities insist that anyone installing a headstone in one of their cemeteries has a BRAMM 'fixer licence.'

It is important to remember that the size and design of the memorial you choose for your loved one must be approved by the Burial Authority responsible for managing the cemetery they are interred in.

Headstones installed in cemeteries owned by a diocese of the "Church of England" or other religious organisation, usually have their own rules for appropriate designs, which they can discuss with you.
Types of headstone

Once you know the rules that apply to your choice of headstone, the main consideration, apart from budget, is a design that is appropriate to the person that has died.

If your loved one was not religious then, even if they had a traditional funeral, angels or crosses might not be appropriate, so secular imagery, such as hearts or books, might be more suitable.

There are several different types of headstone and cremation memorials that you can choose from. If you know that your loved one did not desire anything ostentatious then a simple lawn memorial, or memorial vase, rather than a kerb set, might be better for them.

Lawn memorials

The traditional image of a headstone is actually described as a 'lawn memorial.' The simplest designs for this type of headstone are rectangles with square, rounded, or ogee tops, which can be carved with designs, such as crosses, roses or angels. A range of more elaborate shapes, such books, hearts or celtic crosses is also available from most masons.

Brass flower-holders can also be included in the base of the headstone.

Kerb sets

A traditional kerbed set is the largest and most elaborate design for headstones commonly installed in cemeteries. The front of the memorial includes a stone kerb that outlines a rectangle above the grave that can be filled with natural or coloured chippings, or soil for a flowerbed. Brass flower-holders can also feature in it. The additional area allows for the incorporation of more extensive carvings in the design.

Not all burial authorities permit kerbed memorials because of their size, but these are still a popular choice in cemeteries that do allow them.

Memorial ledgers

A memorial ledger is a stone slab that lies flat on top of the grave. The surface area of the stone is much larger than either a lawn memorial or kerb set and can feature a longer inscription. An upright headstone can also be incorporated at the top end of it, to highlight the words, with the ledger slab featuring a horizontal carved design.

Ledger memorials are probably the least common type of headstone, and might not be permitted in some cemeteries, but this type of memorial can be a good choice if you cannot visit it often; covering the grave with the slab means that the area does not have to be regularly maintained.

Cremation memorials

If someone is cremated it is not necessary to scatter all of their ashes, and some families prefer to bury them in a cemetery so that they have a memorial to visit. Our guide to cremations has a lot more information on the subject.

Cremation memorials are usually smaller than headstones. The simplest designs are flat tablets, but can be larger, with carvings and brass flower-holders.

Memorial vases

If your loved one would have preferred a smaller, simpler tribute, a memorial vase can be a good choice. The model for most memorial vases is a brass flower-holder set in a stone cube. There is usually space for a short inscription on the front of the cube. Memorial vases can be installed on burial or cremation plots.